Anchor Bay unveils details on the next Dario Argento movies, including Profondo Rosso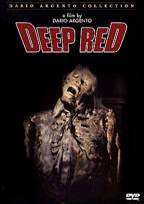 Anchor Bay Entertainment has just unveiled details on a series of new upcoming horror titles. The next two films in their Dario Argento Collection are finally arriving on April 25. Profondo Rosso aka Deep Red will feature a brand-new 16×9 transfer as well as 5.1 channel Dolby Digital audio tracks in English and Italian. It is widely considered to be Argento's masterpiece, and Anchor Bay is presenting the movie in its uncut and uncensored version. It is the story of an English jazz pianist living in Rome who witnesses the brutal hatchet murder of a renowned psychic and is quickly drawn into the savage crime. With the help of a tenacious female reporter, the pair track a twisted trail of deranged clues and relentless violence towards a shocking climax that has ripped screams from the throats of audiences for more than 25 years!
The second Argento movie in the line-up is Inferno, also scheduled for release on April 25, featuring a 16×9 transfer and a 5.1 Dolby Digital audio track. For the first time in the US, "Inferno" is also presented in its uncut and uncensored version on this DVD, transferred from original vault negative materials. In "Inferno", a young woman stumbles upon a mysterious diary that reveals the secrets of "The Three Mothers" and unleashes a nightmare world of demonic evil. As the unstoppable horror spreads from Rome to New York City, this unholy trinity must be stopped before the world is submerged in the blood of the innocent. The disc will also contain an exclusive Interview with director Dario Argento, the film's theatrical trailer and a still gallery.
Anchor Bay has also scheduled the release of a series of Hammer movies, including The Abominable Snowman, The Four Sided Triangle, Quatermass 2, and X The Unknown. Please check our latest title announcements or our Film Vault for details on these and many other releases.