An outlook on Criterion Collection's entire line-up for the year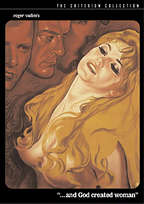 We have just received a schedule from Criterion Collection regarding the studio's DVD release plans for the entire year. While this schedule is without a doubt incomplete as things will inevitably change over the coming months, the list includes some very nice surprises.
Criterion's April and May titles like "Magic Flute", "The Last Temptation Of Christ", and "Cleo From 5 To 7" have been announced already in quite some detail earlier, and the list gets increasingly more interesting after that. In June Criterion has scheduled a release of The Bank Dick, And God Created Woman as well as W.C. Fields Six Short Films. For release in July the studio lists The Harder They Come, The Lady Eve, Element Of Crime, Knife In The Water, Olympia and Children Of Paradise. It is getting really exciting in August where Criterion has plans to release Hidden Fortress and Do The Right Thing as well as Alexander Nevsky and Ivan The Terrible Parts 1 and 2. As you certainly remember these titles have been released by Image Entertainment before and you can still find the reviews to these classics of Russian cinema here on our pages. September offers Sisters, Kwaidan, Fiend Without A Face and The Blob, while in October Black Narcissus and The Ruling Class will make their debut. In November Criterion will then release Gimme Shelter, Cries & Whispers and The Scarlet Empress. No releases are currently planned for December. Although no details and exact release dates were given, all these discs should be special edition releases with some extras.
As you can undoubtedly see from this list, Criterion's line-up through the year consists almost solely of classic and obscure movies and many of the blockbuster releases the publisher had originally become so recognized for are absent from this list. Since most studios produce DVD releases themselves – while no one really wanted to touch Laserdisc – they are more interested in producing their own special editions than licensing their properties out to companies like Criterion.