A first look at the expansive menus of Warner Home Video's Three Kings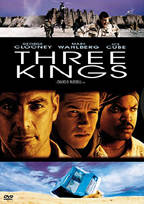 We have just gotten the chance to take a first look at Warner Home Video's upcoming DVD of the action adventure Three Kings. Starring George Clooney, Mark Wahlberg and Ice Cube, the disc will be released on April 11 and from what we have been able to gather so far, this DVD is one serious mega-pack that will make even "The Matrix" look slim. Interestingly, Warner Home Video has also made a last-minute chage to the cover artwork for the release, replacing the originally planned artwork we were showing some time earlier with this new one, which we feel has a much more mature note.
The amount of supplements Warner Home Video has been able to accumulate on this disc is simply amazing, and so is their quality. Covering all aspects of the movie, the production and cast, you will spend countless hours going through these bonus materials that are presented on a seemingly neverending array of menu screens.
During our brief travel through the disc" we have also been able to already spot a number of hidden features, so make sure to keep your eyes open for those when the disc will finally be released. For now, please join us for a first look at a selection of menu screens from this exciting release. Click here or on the cover artwork to the left for a look at the menu screens we have prepared for you.