A first look at Columbia TriStar's The Messenger: The Story Of Joan Of Arc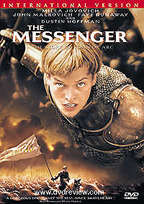 On April 4, Columbia TriStar Home Video will release Luc Besson's latest movie The Messenger: The Joan Of Arc Story on DVD. The DVD will feature the movie's international cut with 10 minutes of additional footage in a 16×9 enhanced widescreen presentation with a 5.1 Dolby Digital audio track.
In 1412, a very religious young woman has her first vision at the age of thirteen. Years later, she joins forces with Charles VII to liberate Orleans and Reims. She is betrayed, imprisoned and tried as a witch for her visions and then burned at the stake as a heretic.
The release will also feature a documentary called "The Messenger: The Search for the real Joan of Arc," a featurette produced by HBO. Eric Serra's isolated music score as well as various Theatrical Trailers and Talent Files are also part of this release.
Today we are able to present you selected menu screen from this exciting upcoming release. Please click here or on the image to the left for a closer look at these menu screens we have prepared for you.