20th Century Fox Home Entertainment unveils a special edition of Entrapment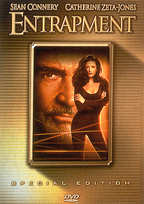 20th Century Fox Home Entertainment just unveiled details for a special edition of their pulse-pounding Entrapment. Although released earlier as a standard DVD already, Fox has now announced a re-release of the title on April 4 with some exciting added features.
The movie will be presented in an anamorphic widescreen transfer on the disc with a 5.1 Dolby Digital audio track, as well as a French Dolby surround track. The disc will feature an audio commentary by director John Amiel and deleted scenes, also with commentary by the director, that include a high-octane car chase, am extended hotel sequence and an alternate ending. A "Making of" documentary is also part of the release as well as theatrical trailers and TV Spots together with cast biogrpahies.
The "Entrapment" special edition starring Sean Connery and Catherine Zeta-Jones will carry a suggested retail price of $34.98 when it is released on April 4.