We give you an early look at the covers of the next upcoming James Bond DVDs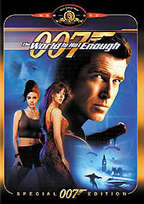 As we had reported earlier, MGM Home Entertainment will debut the latest James Bond movie The World Is Not Enough on May 16. Together with a second box set of James Bond movies, this title will once again allow fans of the franchise to enjoy these action movies in all their glory with remastered anamorphic video transfers and remastered audio tracks, as well as a plethora of bonus features.
Today we are able to present you the covers of all James Bond titles slated for release on May 16. Note however, that the latest James Bond movie "The World Is Not Enough" will not be part of the box set and will only be sold separately. Please click here, or on the image to the left for a look at all the covers of these exciting releases.