Warner Home Video is finally unveiling details about Three Kings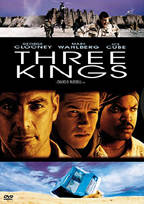 The title has been mulled around for some time already, and finally Warner Home Video has announced the details for the upcoming release of Three Kings. Scheduled for release on April 11, "Three Kings" stars George Clooney, Ice Cube, and Mark Wahlberg in an exhilarating action mix.
The Gulf War is over. Operation Desert Storm is no more. Now, three American soldiers have the opportunity of a lifetime–to become "Three Kings." Amid the partying and confusion, three soldiers disappear into the Iraqi desert to find millions in stolen Kuwaiti bullion and are plunged into the heart of a democratic uprising that spins the day – and their lives – out of control.
The DVD will contain the movie's anamorphic widescreen transfer and a 5.1 channel Dolby Digital audio track, as well as two separate audio commentary tracks, one by director David O. Russell and another one by the film's producer. "Under the Bunker", a Making Of Documentary and deleted footage with commentary by the director will also be part of the release, as is an interview with the movie's Director of Photography, Newton Thomas Sigel. It is rounded off with a video journal, an look inside the acting process with Ice Cube, a tour through the production design of the Iraqi village set, photo galleries and much, much more.
We have already prepared the cover artwork for this exciting release from Warner Home Video for your viewing pleasure. Please click on the image to the left for an enlargement of the disc's packaging art.