Universal schedules The Dinner Game and I Married A Strange Person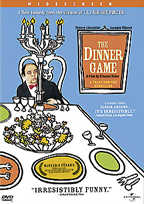 We just got some more information for some upcoming titles from Universal Home Video in. Scheduled for April 25 is The Dinner Game a film by Francis Veber about a group of friends who meet every Wednesday night to have dinner together. They also have game that goes with the dinner. Every week each one of them is challenged to bring along the dumbest person he can find. The resulting conversations are supposed to entertain the hosts and at the end of the night they vote for the idiot of the evening. Pierre, the host of the entire event is fully convinced that his champ will steal the show and win the title, but things go horribly wrong, leaving him stuck with his own "idiot".
"The Dinner Game" will be released in a fullframe transfer with its original French language track and English subtitles. The DVD will also contain the movie's theatrical trailer and retail at $24.98.
Another release in the same vein is I Married A Strange Person, Bill Plympton's animated comedy that will find its way to DVD on April 25 in its original unrated and uncut version. The film tells the story of a newlywed who develops a strange lump on his neck that gives him the ability to transform people or objects at his will. His wife is very upset. Meanwhile, the CEO of Smilecorp learns of this man and his ability and sees a way to achieve world domination if only the man can be taken alive. Presented in a 1.66:1 widescreen aspect ratio, "I Married A Strange Person" will also contain the movie's theatrical trailer.