The End Of Days draws nearer as Universal prepares DVD release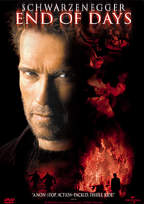 As we had announced earlier, the latest Arnold Schwarzenegger movie End Of Days is coming to DVD. Scheduled for release on April 18, the DVD will be a Collector's Edition from Universal Home Video that presents the movie in an anamorphic widescreen transfer in its original 2.35:1 aspect ratio with a Dolby Digital 5.1 audio track in English, as well as a French Dolby Surround track. The disc will also contain a number of exciting supplements, such as an audio commentary by director Peter Hyams, a behind-the-scenes featurette and another featurette called "Special effects: The Devil's Playground." But there's more. The disc also contains a soundtrack presentation, including a never-before-seen "Everlast" video and Rob Zombie's rarely seen music video. Then there is the "Book of Revelations", the movie's trailer and some DVD-ROM features.
This apocalyptic horror film will carry a suggested retail price of $26.95 when it hits retail shelves on April 18 for the first time. To make the wait a little shorter, here is the disc's cover artwork. For a better look, please click on the image, which will bring up a larger version.