Take a look at the menu screens of New Line's The Bachelor with us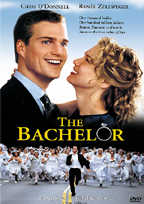 On April 18 New Line Home Video will release The Bachelor. It is a romantic comedy starring Chris O'Donnell, and Rennée Zellweger, featuring guest appearances by Brooke Shields and Mariah Carey.
"The Bachelor" begins when Jimmie Shannon decides to leave behind his single days and proposes to Anne, his girlfriend of three years. He is stunned when his weak proposal and unconvincing pledge to commit sends him on a return trip to "Bachelorville." Ironically, soon after, Jimmie is informed that he has 24 hours to find a bride and make a madcap dash to the altar in order to collect a $100 million inheritance. This sudden news send Jimmie on a wild ride through former girlfriends and a "herd" of marriage-ready women, and numerous hysterical encounters. In a twist where life imitates art, the scenario kind of reminds you of the recent "Who Wants To Marry…" fiasco, doesn't it?
Today, we are able to present you some of the menu screens from this upcoming release. Please click here or on the image to the left for a look at the menu screen we have prepared for you.