Take a look at Columbia TriStar's March line-up with us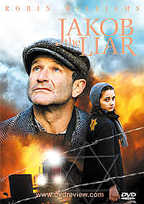 We have just unearthed a series of covers for Columbia TriStar Home Video's March line-up. Including stunning movies like The Bear, Indochine and Stephen Spielberg's Hook, Columbia's slate of releases in March also contains the day and date release of Jakob The Liar. Columbia releases this touching movie as a special edition,containing a "Making Of" Featurette and the movie's isolated music score, as well as an audio commentary track by director Peter Kassovitz. It is the story of poor Jewish cafe owner Jakob Heym in Nazi-occupied Poland during World War II, who accidentally overhears a forbidden radio news bulletin signaling Soviet military success against German forces. To combat the overwhelming depression and suicide that pervades the ghetto, Jakob invents fictitious news bulletins about Allied advances against the Nazis. These lies keep hope and humor alive among the ghetto inhabitants–spirits are lifted, hearts are refreshed, and optimism is reborn. The Germans learn of the mythical radio and begin a search for the hero who dares operate it.
We have prepared the cover artworks from these and other March releases for you, so please click here or on the image to the left for a closer look.