Take a look at Anchor Bay's upcoming Italo horror thriller Torso with us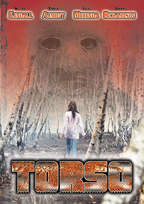 On March 21, Anchor Bay Entertainment will unleash a new series of Italian horror thrillers on unsuspecting DVD fans. The line-up includes titles such as Autopsy, The Killing Hour, and Sergio Martino's Torso. We have been able to take a sneak peek at this upcoming disc and are proud that we are able to present you some of the disc's menu screens for your viewing pleasure.
In "Torso", a series of sex murders on a college campus sends four beautiful young women to the safety of an isolated country villa. As they succumb to their own erotic desires, their weekend becomes a nightmare at the hands and the blade of a lecherous maniac. The film stars Suzy Kendall, Tina Aumont and John Richardson.
As has become their practice, Anchor Bay is releasing "Torso" in its completely uncut version with a running length of 92 minutes. The DVD features a brand new and beautiful looking 16×9 enhanced widescreen transfer in the film's original 1.85:1 theatrical aspect ratio and contains the original Italian audio track, as well as an English dubbed track in Dolby Stereo.
Please click here or on the cover to the left for a close look at some of the disc's menu screens.