Madacy Entertainment revives the Adventures of the Old West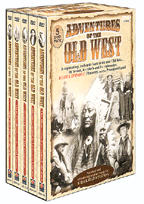 Madacy Entertainment has just announced a five-disc box set called Adventures of the Old West. It is a six episode collection narrated by Kris Kristofferson that shares authentic stories of the Old West as they've never been told before. Rare archival photographs, personal diaries, letters, official documents and first-hand accounts accurtately capture the great turning point of our colorful past.
The titles of the different discs in the package are "Scouts Of The Wilderness", "Texas Cowboys And The Trail Drives", "Great Chiefs At The Crossroads", "Frontier Justice: The Law And The Lawless", and "The 49ers And The California Gold Rush." As a bonus, the DVD Box set will also contain an additional episode called "Pioneers And The Promised Land" that can not be found on the VHS release of the same box set.
The box set carries a retail price of $49.95 and all discs are also sold separately for $9.98 each. The release is scheduled for release on March 21 if everything goes according to plan.