Kiss bids farewell to fans around the world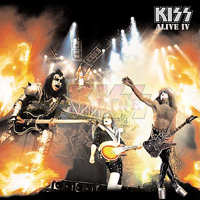 Legions of Kiss fans around the world are in shock today, as the infamous rockers announced that they will hit the road for the last time. Appropriately titled The Farewell Tour after 27 years of Rock'n Roll, Kiss call it quits, and this will be the last chance for fans to see the band in their original line-up. To complement the tour that takes off on March 11 in Phoenix, AZ, Kiss will also release their last album Alive IV on March 28 that was recorded only a few weeks ago during their New Year's show in Vancouver. Hopes are high at this point that the band will also unveil a video/DVD of this recording some time soon.
For more information and updated tour dates, please check out Kiss Online, the band's official website.
I am sure this will not be the last thing we hear about Kiss front man Gene Simmons however, as he already has a number of film projects in the making. For more information on that, you can still visit our interview with Gene Simmons that we conducted only two months ago.