Here is a look at the menus of Columbia's upcoming Bats special edition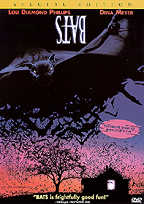 On February 22, Columbia TriStar Home Video will release Bats, this summer's horror surprise in a special edition on DVD. The dark air is filled with the sound of flapping wings and menacing shrieks in a small Texan town. Swarms of genetically altered bats have descended upon the sleepy small town and no one is safe. The only hope to stop the growing tide of bloody devastation is a zoologist who studies bats, her assistant and the local sheriff.
Columbia's special edition of this movie contains the uncut R-Rated Director's Cut of the film in a 16×9 enhanced widescreen presentation with a THX EX audio track! It also contains a commentary track by director Louis Morneau and actor Lou Diamond Phillips. "Bats Aboud", a featurette can also be found on the disc, as well as various photo galleries, effects and storyboard comparisons, trailers and the entire music score of the film on an isolated audio track.
It is still two weeks until the disc is finally making its way to store shelves, but today already we can present you some of the menus from this spectacular special edition. Please click here, or on the image on the left for a closer look at the assortment of screenshots we have prepared for you. Enjoy, and be afraid of the dark… some nasty Bats are coming to town!