Here are the details about Columbia's upcoming special edition of Stuart Little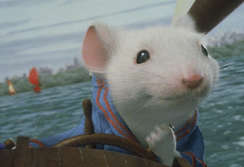 As we had mentioned earlier already, Columbia TriStar is readying Stuart Little for release on DVD. On April 18, the small computer-generated mouse will start its trip into the human world.
Stuart is a mouse like no other. When the Littles decide to adopt outside their species, they learn that love is not based on the size of your heart. The disc will contain a 16×9 enhanced widescreen version and a 5.1 Dolby Digital track.
The disc will also contain a large number of supplements, such as a commentary track by director Rob Minkoff, as well as the movie's animation supervisor and effects supervisor, the HBO Special "Making It Big" as well as a Visual effects "Making Of" Documentary. You will also find deleted scenes, bloopers, a music video, games, conceptual comparisons, screen tests, the isolated music score and a large number of other supplements on this release.