First Run Features announces two releases for March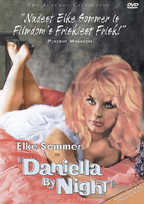 First Run Features has just made new information about upcoming DVD releases available to us, including a release of the sexy Daniella By Night. Starring the original movie sex kitten Elke Sommer, "Daniella By Night" is Elke's last French film before her American career. Daniella, a beautiful young French model, leaves Rome with a contract from its leading fashion house. In no time she meets the finest of Roman society… and becomes embroiled in a murderous spy plot. "Daniella At Night" is notable for its famous nude scene of Elke, its climax atop the roof of the Musee D'Orsay, and the scintillating score by Charles Aznavour.
The DVD will be available on March 14 in its original French version with English subtitles, and carry a suggested retail price of $29.95. The disc will also contain the movie's theatrical trailer and a special Elke Sommer photo gallery featuring production shots, magazine covers and snapshots
First Run Features also The Architecture Of Doom, a documentary about the NAZI philosophy of Beauty through Violence. Featuring never-before-seen film footage of Adolf Hitler and the NAZI regime, the film captures the inner workings of the Third Reich and illuminates the NAZI aesthetic in art, architecture and popular culture. From NAZI party rallies to the final days inside Hitler's bunker, this film shows how Adolf Hitler rose from being a failed artist to creating a world of ponderous kitsch and horrifying terror. The disc will also be available on March 14 at $29.95.