Fantoma unveils Rainer Werner Fassbinder's Whity on DVD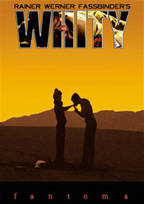 Fantoma just unveiled plans to release Rainer Werner Fassbinder's Whity on DVD. On April 25, we will get to see this acclaimed German film which was the first of the director's psychologically complex melodramas. "Whity" centers around the illegitimate son of the seriously deranged Ben Nicholson. Despite being their slave, he becomes the obsession of each member of the family as they try to enlist his aid in disposing of one another. Shot in lush cinemascope, in Spain, on the sets of Sergio Leone's "spaghetti westerns", "Whity" marked the first of fourteen collaborations between Fassbinder and cinematographer Michael Ballhaus. The result is a unique film in the development of one of cinema's greatest and most influential talents.
The DVD will contain a new 16×9 enhanced widescreen transfer and an audio commentary tack by cinematographer Michael Ballhaus and actor-producer Ulli Lommel, and will be available at retail stores on April 25, at a suggested retail price of $29.95.