Fangoria and MTI present Angel Of The Night in March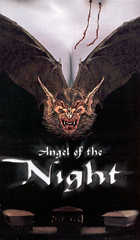 Fangoria and MTI Home Video team up once again to create another home video release of a small independent movie on a larger scale.
We have just received information about Angel Of The Night. Hitting retail on March 14, "Angel Of The Night" is the story of Rebecca, who has inherited her grandmother's gothic mansion. She brings her best friend and her boyfrined to the mansion for a weekend. While exploring the crypts they discover an old dusty book, which describes the life of a vampire.
As the story unfolds, it becomes apparent that the vampire was Rebecca's great-grandfather. Soon she finds herself in a trance, reciting the occult ritual described in the book, resulting in the opening of the coffin and new life for the vampire.
The DVD will contain the film's R-rated version that runs 87 minutes.
If you want to learn more about the movie, there is a 4-page feature article on the movie in the January 2000 issue of "Fangoria" that will give you a pretty good idea what to expect – vampires and blood galore!