Criterion Collection is preparing David Lean's Brief Encounter for release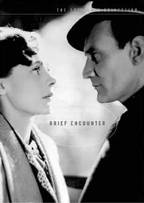 Criterion Collection has just made some information about another one of their upcoming releases available. Scheduled for release later this year is acclaimed director David Lean's 1946 award-winning black and white opus Brief Encounter.
Adapted from Noël Coward's play "Still Life", legendary filmmaker David Lean deftly explores the thrill, pain, and tenderness of illicit romance during the dour, gray Britain of 1945. From a chance meeting on a train platform, a middle-aged married doctor (Trevor Howard) and a suburban housewife (Celia Johnson) enter into a passionate, ultimately doomed love affair set to a swirling Rachmaninoff score.
The DVD will contains the movie's original fullframe transfer and contain a commentary track by film historian Bruce Eder, as well as the movie's original theatrical trailer.