Avalanche Home Entertainment will make you Believe, Beyond Redemption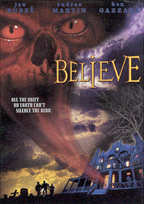 Avalanche Home Entertainment is preparing a new thriller for release on DVD. Available on April 18, Beyond Redemption stars Michael Ironside, Andrew McCarthy and Jayne Heitmeyer in this tale of ultimate tale of bloodlust and murder. Detective Smith is in charge of a hunt for a serial killer who looks to a higher power for his evil masterwork – the sacrifice of highly respected people.
Before that however, on April 4, Avalanche Home Entertainment will release Believe a ghostly horror movie starring Jan Rubes, Ben Gazzara and Jayne Heitmeyer. When you mess with the dead, be prepared to pay the consequences! Ben Stiles loves to scare people. But he's about to get the fright of his life when the mysterious wailing ghost of Wickwire House beckons Ben and his friend Katherine into the eerie world of the supernatural. As he puts his life – and his sanity – on the line to uncover the shocking truth behind the haunting, he find himself in over his heels.