ALERT – Columbia TriStar finally announces Men In Black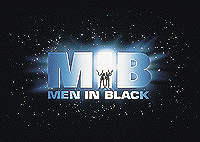 We have just received official word from Columbia TriStar Home Video that the studio will release a Collector's Series of Men In Black. The special release will hit the streets on Spetember 5 and will come as a limited release only!
"Men In Black" is the action and fun-filled story of two alien hunters who save the Earth from invasions from Outer Space. As you can see in the movie, there is a dire need for that, as Aliens are everywhere, disguised, making us believe they were completely human.
This movie has been a fan-favorite since its release almost three years ago, but a DVD release had been hampered by many obstacles in the past, but finally all these issues seem to be resolved and Will Smith and Tommy Lee Jones will clean up the earth from alien scum in this exciting upcoming release. No details are available yet, but we'll keep you posted!