A-Pix Entertainment unveils Thugs and Love Kills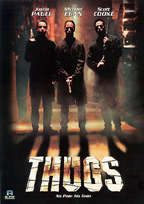 A-Pix Entertainment has just sent us information on two upcoming DVD titles that will be published through Image Entertainment. On April 18, we will get to see Mario Van Peebles, Lesley Ann Warren and Daniel Baldwin in Love Kills.
Poe Finklestein has broken out of prison with the help of Sylvia, and cons his way into the home and bed of the newly widowed and very wealthy Evelyn Heiss. Forced to live among the family, who are constant sources of irritation, they all wait with rising anticipation for the reading of the will. Pretty soon, a cop is snooping around the house and questioning the family and guests about a recent burglary. But all is not what it seems as Poe, Sylvia, Evelyn, the relatives and Hollywood's underbelly all have designs on the family jewels.
A-Pix has also announced the action picture Thugs for release on April 11. Troubled by their search for success, three friends team up to embark on a life of crime. First come a string of disastrous robberies, then ultimately a chance at the big time with the local crime syndicate. Once loyalties and abilities are proven, the gang are given an assignment small time thieves only dream about – a large scale robbery that will earn individual respect from the organization. But soon, the robbery reveals itself as a set-up with deadly results.
No further details are available on these titles yet, but we will keep you informed as more information comes in.