A look at the cover of Warner Home Video's upcoming House On Haunted Hill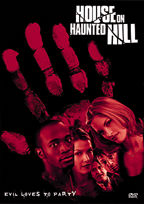 The remake of William Castle's 1959 classic haunted house movie House On Haunted Hill is soon making its DVD debut. Slated for release on April 18, this new version of the film has been updated quite a bit, with a young cast and a slight change in the plot to keep viewers interested. On top of it, the gore factor has significantly been raised, making this an anticipated release for many horror fans.
One night – one million dollars. No questions asked, no answers revealed, is the deal a multi millionaire thrill seeker makes to a small group of guests who he invites to stay the night in his haunted mansion – that is, if they can survive through the night.
Warner Home Video's release of this brand new movie will come in a 16×9 enhanced widescreen version with a 5.1 channel Dolby Digital mix. The disc will also contain a commentary track by director William Malone, deleted footage, trailers of both the 1959 and the 1999 versions of the film and a series of DVD-ROM only content, suc has "Escape from the House" and 2 essays.