A first look at the menus of New Line's upcoming The Hidden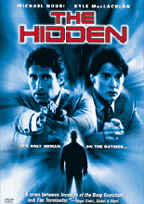 On April 18, New Line Home Video will release The Hidden on DVD, but today already we are able to present you some of the menu screenshots from this exciting upcoming release.
When a series of bizarre, inexplicable robberies and murders baffles LA police detective, Tom Beck (Michael Nouri), it doesn't help when mysterious F.B.I. agent, Lloyd Gallagher (Kyle MacLachlan) tells him that a demonic extraterrestrial creature is invading the bodies of innocent victims and transforming them into inhuman killers who enjoy heavy-metal music, red Ferraris and violence. It's a spine-chilling, high-velocity sci-fi thriller!
Please click here or on the image to the left for a look at a selection of menu screenshots from this release that we have prepared for your viewing pleasure.