20th Century Fox will begin labelling DVD cases for anamorphic enhancements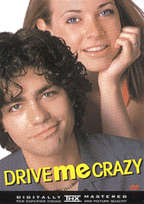 As we had reported earlier, 20th Century Fox Home Entertainment is beginning to release practically all their future DVD releases with 16×9 enhanced widescreen transfers, whenever possible.
While some selected titles in the past, like "The Thin Red Line", "Alien", "Patton" and others, had already been enhanced for 16×9 television sets, one of the problems for customers was that these titles were never labeled as such, making it impossible to discern from the outside whether a particular DVD release did feature the anamorphic encoding or not.
This is about to change, as Fox will also be adding the according information on their DVD packaging. The first title to sport a "Widescreen Anamorphic Format" identification on the back will be Drive Me Crazy, the studio's March 14 release, starring Melissa Joan Hart. The THX certified disc will also contain a 5.1 channel Dolby Digital audio track, the movie's theatrical trailer and TV spots.