We captured the magic of Universal's Out Of Africa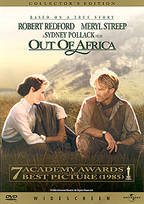 On February 29, Universal Home Video will release the magnificent epic Out Of Africa on DVD in their Collector's Edition series. Honored with 7 Academy Awards, the movie stars Meryl Streep and Robert Redford under the direction of Sydney Pollack. It is the fascinating true story of Karen Blixen, a strong-willed woman who, with her philandering husband, runs a coffee plantation in Kenya around 1941. To her astonishment, she soon discovers herself falling in love with the land, its people and a mysterious white hunter.
It may still be 4 weeks until the disc is finally released, but today already we are able to give you close look at some of the DVD's menu screens. Please click here or on the image to the left for the images we have compiled for your viewing pleasure.