Warner Home Video unveils March and April titles, and more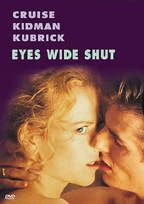 We have just received detailed information for a series of titles from Warner Home Video, slated for release in the coming months. The first, and most anticipated is certainly Stanley Kubrick's last film, Eyes Wide Shut. It features Tom Cruise as a doctor married to an art curator, Nicole Kidman. Their lives begin to come apart after she admits to having a sexual fantasy about another man. This sends him on an odyssey of sexual & moral discovery. This is the R-rated version of the movie with the digitally modified images to have nudity removed from the film, and will carry a suggested retail rpice of $24.98
Other titles to hit the shelves soon are the Humphrey Bogart classics Key Largo, The Maltese Falcon, The Big Sleep and Casablanca as we had reported earlier.
To add to their animation releases, after scheduling Scooby Doo for release on March 14, Warner has also added Tom And Jerry: The Greatest Chases to their line-up for release also on March 14.
Also on their release lists is Pee Wee's Big Adventure, cult-director Tim Burton's directorial debut from 1985. When Pee Wee Herman's bicycle is stolen, he will do anything and everything to get it back! The release will feature a commentary track, footage from the MTV premiere party and the movie's trailer.