Warner Home Video unleashes your favorite dog on DVD – get ready for Scooby Doo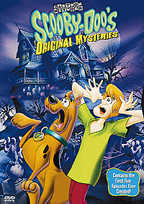 It has been a long time waiting but it is good to see that more and more television series are finally making it to DVD. Warner Home Video has just scheduled the release of their animated television series Scooby Doo.
Called Scooby Doo's Original Mysteries, the DVD will be released on MArch 14 and feature the first five episodes ever created in the series. Starting with the pilot "What a Night for a Knight," the disc will also feature "Hassle in the Castle," "A Clue for Scooby-Doo," "Mine Your Own Business" and "Decoy for a Dognapper." As bonus features, the release will also contain a Scooby Doo music video, Scooby Doo snack recipes, a selection of original Scooby songs from the "Snack Tracks" album and a trivia game.
Presented in the series' original fullframe aspect ratio, the disc will contain language tracks in English and French and carry a suggested retail rpice of $24.98.