VCI Home Video unveils February titles, including classic Flash Gordon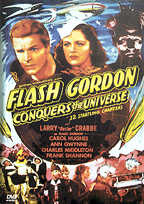 VCI Home Video has just announced a number of new titles that will come to DVD in the coming months. One of the highlights is Sacco and Vanzetti, the 1971 political movie starring Riccardo Cucciolla, Milo O'Shea and Cyril Cusack. The disc will contain a 16×9 enhanced widescreen presentation of the movie as well as the original theatrical trailer and the isolated music score. Currently, the release date for this title is set for February 22 at a suggested retail price of $24.99.
But VCI has even more titles in the making. Also coming on February 22 are Flash Gordon Conquers The Universe from 1940. It is the third and final installment of the Flash Gordon serial trilogy, starring Buster Crabbe and Charles Middleton. The disc will also contain never-before-seen interviews with Buster Crabbe and a personal photo gallery." Flash Gordon Conquers The Universe" will carry a $29.99 suggested retail price.
Next in line is Las Vegas Hillbillys, the 1966 comedy with Jayne Mansfield about two country singers inheriting a Las Vegas casino. But also Hillbillys In A Haunted House, the sequel to the "Las Vegas Hillbillys", will be released on February 22. Both discs are priced at $19.99.