The details about the upcoming Butch Cassidy And The Sundance Kid DVD are here!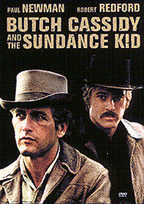 We have just received details on the upcoming release of Butch Cassidy And The Sundance Kid. As we have announced earlier, 20th Century Fox Home Entertainment will be releasing this milestone film, starring Robert Redford and Paul Newman, on May 16.
Now it turns out the release is a special edition with a number of exciting extras. The disc will contain a widescreen version of the movie with a 5.1 channel Dolby Digital audio track. The DVD will feature a brand-new transfer that is enhanced for 16×9 television sets. As supplements, the disc will contain an audio commentary track by George Roy Hill, Hal David, Robert Crawford and Conrad Hill. But also a 45-minute documentary on the making of the film with interview and behind-the-scenes footage will be part of this sizzling release. You will also find a number of 1994 interviews with Paul Newman, Robert Redford and Katharine Ross, William Goldman and Burt Bacharach on this special edition, as well as the movie's theatrical trailer and the "Interactive History Of Butch and Sundance" as DVD-ROM-only addition. Carrying a suggested retail price of $34.98, this disc definitely sounds like a big winner!