Take a look at the menus of Universal's Bowfinger with us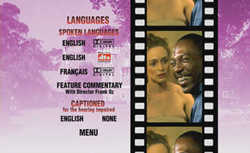 Next week, Universal Home Video will release Bowfinger on DVD. It is a riotous comedy starring Steve Martin and Eddie Murphy, that takes a not-so-serious look at the Hollywood-way of doing business. Learn through Steve Martin as a down-on-his-luck filmmaker, how you can con your way through Hollywood without a penny and still manage to create a blockbuster movie – well, sort of.
With a wink, Bowfinger pays tribute to the Hollywood myth and under the direction of Frank Oz, this film is a true blast. Today already we are able to present you some of the disc's menus for you viewing pleasure. Please click here or on the image to the left for a closer look at our menu selection.