Take a look at Humphrey Bogart in The Big Sleep with us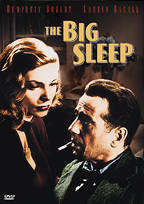 Warner Home Video is preparing to release a number of Humphrey Bogart titles on DVD in the coming months, starting with the 1946 classic The Big Sleep that is based on Raymond Chandler's first novel.
As private eye Philip Marlowe, Humphrey Bogart is hired by a rich family to keep an eye on their youngest daughter who is socializing with bad company. Soon Marlowe finds himself head over heels in love with the girl, and amidst a case of murder, deceipt and blackmail.
Warner Brothers' DVD release will contain both, the 1946 version of the movie running 114 minutes, as well as the pre-release version from 1944, containing 18 minutes of additional footage. The release will also contain a documentary and the film's trailer and carry a suggested retail price of $19.98.
Following "The Big Sleep", Warner Home Video has already slated the 1941 detective thriller "The Maltese Falcon" for release a little later in the year.