Take a look at Columbia TriStar's Jumanji Special Edition with us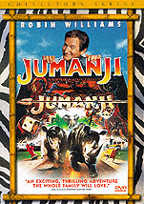 Next week, Columbia TriStar Home Video will release a special edition of Jumanji, the fantastic film starring Robin Williams, Kirsten Dunst, Jonathan Hyde and many others.
Apart from a 16×9 enhanced presentation in 5.1 channel Dolby Digital, the special edition Columbia has been preparing contains a number of very interesting supplements, including the isolated music score of the film, a "Making Of" documentary, a production design documentary and fully storyboarded sequences from the movie. But also a commentary track by the special effects crew, as well as a featurette on the special effects form the film is part fo the release, together with the movie's trailer and an extensive photo gallery.
Today, we are able to give you an early look at some of the disc's menu screens. Please click here or on the image to the left for a close-up look at the menus we have prepared for you.