Sterling Entertainment brings in the Wrecking Crew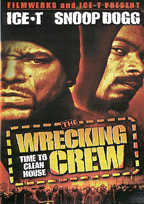 Day and date with its VHS release, Sterling Entertainment will release The Wrecking Crew on DVD this spring. "The Wrecking Crew", a secret high-level government funded hit squad is dispatched to clean up the gang-infested mean streets of Detroit. The film features Hong Kong style action and martial arts against state-of-the-art special effects.
Scheduled for release on March 21, this urban mayhem starring ice-T and Snoop Dogg features music from Ice-T's current Coroner's album "7th Deadly Sin". The DVD will feature a widescreen transfer with a 5.1 channel Dolby Digital audio track, and contain a commentary track, "Behind-the-scenes" footage, DVD-ROM content and the movie's theatrical trailer at a suggested retail price of $29.95.