Paramount schedules Star Trek 3: The Search For Spock for April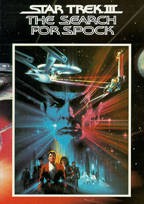 We have just received some red-hot new release information from Paramount Home Video. The studio has slated four titles for release on April 11, including another Star Trek feature film.
Long awaited, the third Star Trek movie The Search For Spock is finally making its entrance on DVD. In this 1984 feature film, Captain Kirk jeopardizes his career by stealing the U.S.S. Enterprise in an attemt to resue Spock's body and soul. The film will come in a 16×9 enhanced widescreen presentation and carry a suggested retail price of $29.99.
Other titles slated for April 11 are Hollywood Confidential, in which Edward James Olmos plays a former Los Angeles cop who now runs a topflight private detective agency which caters to the elite of Hollywood who are spoiled and demanding. The disc will come in a fullframe presentation at $29.99.
Jennifer 8 is the next film on the list, a menacing thriller in which Andy Garcia plays a homicide cop assigned to a murder case in which the key witness is a young blind woman played by Uma Thurman, with whom he falls in love during the investigation. Presented in a 16×9 enhanced widescreen version, "Jennifer 8" will also carry a suggested retail price of $29.99.
The last film in the line-up is the latest "Saturday Night Live" feature film, Superstar, featuring Molly Shannon as the Catholic schoolgirl Mary Katherine Gallagher. The film follows the hilarious adventures of the klutzy schoolgirl as she pursues her dream of the perfect kiss… and superstardom! The disc will also feature a 16×9 enhanced widescreen version and retail at $29.99.