New Line unveils John Carpenter's In The Mouth Of Madness on DVD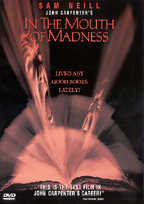 Only two more weeks until New Line Home Video releases John Carpenter's horror film In The Mouth Of Madness, starring Sam Neill and Jürgen Prochnow in a truly sinister tale where the viewer never knows whether what he sees is real or not.
Today already we are able to give you a good look at some of the menus from the disc. Dark, ominous and stylish, these menus carry the same somber note as the suspenseful movie itself, but see for yourself.
Please click here or on the image to the left for a look at an assortment of menu screen we have prepared for your viewing pleasure. As you can see from those menus, the release contains a commentary track with John Carpenter. It also features a fullscreen and a 16×9 enhanced widescreen version of the film which are selectable form the disc's main menu, as well as a 5.1 channel Dolby Digital audio track. Prepare for this terrifying movie that was inspired by the work of H.P. Lovecraft.