More information on Bogart and the cover of The Maltese Falcon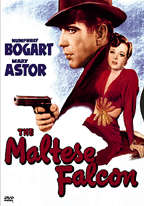 As we pointed out yesterday, Warner Home Video is preparing a series of Humphrey Bogart title for release on DVD, and finally the release dates and more details for the first three titles have been announced.
100 years have gone by since Humphrey Bogart's birth and the actor who appeared in 85 films is now celebrated in Warner's special edition releases of The Big Sleep, The Maltese Falcon and Key Largo. All three titles will be released on DVD on February 15.
As reported earlier in this scoop, the special edition of The Big Sleep, will featuring two different versions of the film and some other supplements on the disc.
The special edition of The Maltese Falcon will contain an all-new introduction and a documentary called "Becoming Attractions: The Trailers Of Humphrey Bogart", hosted by Turner Classic Movies' Robert Osborne, which traces Bogart's career. The release will also contain the movie's original theatrical trailers and limited-edition reprints of mini-lobby cards.
The third release in the line-up is Key Largo, in which Bogart plays with fellow-heavyweights Edward G. Robinson and Lionel Barrymore. For some reason however, Warner's press release does not contain any details about the release's contents. Each one of the three discs will carry a suggested retail price of $19.98.
To complement these releases, Warner will also re-issue the movie Casablanca as it had previously been released by MGM Home Entertainment.