Independence Day finally unveils its real contents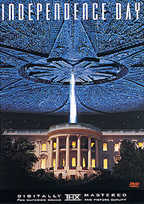 Although some information was making its rounds about the content of the upcoming 2-disc special edition of 20th Century Fox Home Entertainment's Independence Day, solid information on the actual content of the release were very rare. Now we have been able to find out all the details about this highly awaited release.
Like "The Abyss", this 2-disc box set will offer viewers the chance to chose on the fly whether they want to view the movie's theatrical version or the 10-minute longer special edition release through the use of DVD's branching capabilities. The disc will feature a widescreen transfer of the movie with a 5.1 Dolby Digital audio track in English and a French Dolby Surround track with optional Spanish subtitles.
On the extras' side, you will find a number of different photo galleries on the set's second disc. They will cover production stills, story boards and concept art from the movie. A 30-minute documentary on the making of the movie will also be included, as well as the original "Biplane" ending. A commentary track by Roland Emmerich and Dean Devlin will also be included, as is an interactive link to download the official. Never-before-seen "ID4 Interactive Game". Rounded up with trailers and TV spots, this special edition will retail at $39.98 when it hits stores on June 13.