Criterion schedules The Last Temptation Of Christ for March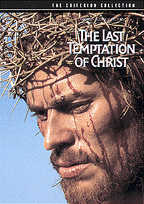 Just in time for the Easter Holidays, Criterion Collection has scheduled Martin Scorcese's controversial The Last Temptation Of Christ for release on March 14. The DVD will be an exclusive, director-approved special edition with a number of exciting supplements that will help tp see and understand the movie for what it really is – a 15-year long labor of love.
The movie itself will be presented in its original 1.85:1 widescreen aspect ratio in a transfer that is enhanced for 16×9 television sets and has been approved by the filmmakers.
A new 5.1 channel Dolby Digital soundtrack by original supervising sound editor Skip Lievsay will also be part of the DVD, as well as an audio commentary by Martin Scorcese, Willem Dafoe, Paul Shrader and Jay Cocks.
This Special Edition will also contain an extensive collection of research materials, production stills and costume designs, as well as location production footage shot by Martin Scorcese himself during the filming of the movie. To round it up, this DVD will also come with a video interview with composer Peter Gabriel, plus a stills gallery of the instruments used in the film.
This 164 minute long cinematic treasure will finally make its debut on DVD on March 14 at a suggested retail price of $39.95.