Columbia unveils Dogma and many other new releases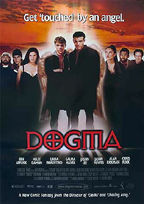 A number of new title announcements from Columbia TriStar Home Video just came in that will certainly grab your interest. The highlight on the list is without a doubt Dogma, the hilarious comedy about the great grand niece of Jesus Christ who is enlisted to prevent two angels from re-entering Heaven and thus undoing the fabric of the universe. She is aided by two prophets and the 13th Apostle, they must stop all who stand in their way. The disc will contain the movie's widescreen and fullframe transfer as well as a Dolby Digital audio track when it hits retail day and date with its VHS counterpart on May 2.
Blind Fury / Omega Doom is a Rutger Hauer double-feature. Both films will be presented in widescreen versions and released on a single disc on April 25. In Fortress 2, Christopher Lambert reprises his role in this science fiction action thriller which deals with a futuristic prison dealing in mind control among other things. Also scheduled for release on April 25, "Fortress 2" will come only in a widescreen presentation.
Jagged Edge is a thriller starring Jeff Bridges and Glenn Close, in which a San Francisco heiress is brutally murdered, and her husband becomes the prime suspect. He immediately hires an attorney. There is a certain chemistry between them, and she soons finds herself defending the man she loves. The disc will contain a fullframe and widescreen version of the movie and will be released on May 2.
The King Of Marvin Gardens is the tale of two brothers. One is a radio personality in Philadelphia, and the other fronts for the local mob in Atlantic City. Starring Jack Nicholson and Bruce Dern, the disc will contain a widescreen version as well as a fullframe presentation of the movie when it is released on April 25.
Also coming on April 25 is Lords Of Flatbush, a 1974 comedy drama starring Sylvester Stallone. The year is 1957 and the story revolves around a group of youths who form a Brooklyn gang. The disc will also cotnain a fullframe and a widescreen version.
Things Change is next on the list, scheduled for May 2, a comedy about a shoe-shiner who looks remakably like a Mafia don and is paid to take the rap for a murder, a two-bit gangster has to guard him over the weekend. Instead of sitting around, they head for Lake Tahoe which leads to many trouble.
Virtual Sexuality is the last one on the list, also slated for release on May 2. A frustrated teenage girl creates her perfect man in a virtual reality machine and then, in a freak accident, he is suddenly given life but part of her psyche is copied into her perfect man. She is immediately attracted to him but he seemes more interested in someone else.