Columbia TriStar takes DVD owners to a Picnic at Two Moon Junction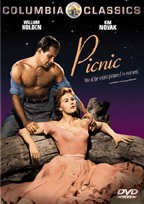 Columbia TriStar Home Video just sent some new information on some upcoming releases our way. On April 18, the studio will release Picnic as part of the "Classic Collection" on DVD, the Academy Award nominated movie starring William Holden, Kim Novak, Rosalind Russell and Cliff Robertson.
Based on William Inge's Pulitzer Prize winning play, Picnic was vividly brought to the screen by director Joshua Logan. A revealing look into the hearts and minds of a select group of Kansas townsfolk over Labor Day weekend, this simple, yet poignant story stars William Holden as an itinerant drifter who swings into town, stirring up trouble and awakening the dormant libido of Kim Novak.
"Picnic" will contains a 16×9 enhanced widescreen transfer and a fullframe presentation with Dolby Surround audio tracks in English, Spanish and Portuguese and carry a suggested retail price of $24.95. It will also contain vintage advertising materials and a photo montage.
Another release scheduled for April 18 is Two Moon Junction, the story of a girl that has just graduated from an exclusive Southern college. She's just returned home to her family mansion to prepare for her semi-arranged marriage to "the right man", a man approved by April's father, a Senator. During a trip to the local fair, she meets the kind of man she always wanted but never knew while her parents are aghast.
"Two Moon Junction" comes in a widescreen and fullframe presentation with a monaural English language track at a suggested retail price of $24.95 without notable extras.
Both discs are part of Columbia TriStar Home Video's 2000 Prizes A Day sweepstakes, millennium promotion that is giving away 2000 prizes every day during the year 2000. Each participating title in the program – which will include scores of new to DVD titles and sell-through releases – will be specially marked to alert customers to the giveaway.