Buena Vista Home Entertainment unveils more April titles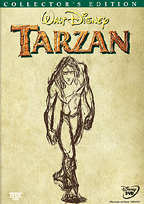 After our announcement that The Aristocats is coming to DVD in April, we have just received some more hot title announcements for Buena Vista Home Entertainment releases, all slated for April.
The line-up starts with the 2-disc Collector's Edition of Tarzan, featuring a plethora of supplements for Disney's latest animated feature film.
Michael Mann's The Insider is making its DVD debut day and date with the VHS release. See Al Pacino and russell Crowe in the true story of tobacco executive-turned-whistleblower Jeffrey Wigand and his relationship with "60 Minutes" producer Lowell Bergman in this hot new release.
Also Lawrence Kasdan's Mumford is making its home video debut day and date on DVD and VHS. Another film on the release lists is That's The Way I Like It, also known as "Forcer Fever", a romantic comedy drama by Glen Goei. Then, there is Happy, Texas a zany comedy about wo escaped convicts who arrive in the town of Happy, Texas, where they are mistaken for a gay couple who is to host the town's Little Miss Fresh Squeezed beauty pageant.
Wes Craven's Music Of The Heart, the story of a schoolteacher's struggle to teach violin to inner-city Harlem kids, starring Meryl Streep is also coming to DVD in April. To round it up, there is Jet Li in The Enforcer. Since this movie is not part of Li's official filmographies, it appears that it is a newly "domesticized" version of an earlier movie.