A closer look at The Bone Collector gives away its details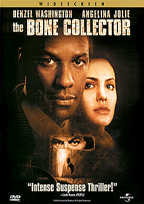 On March 14, Universal Home Video will debut the DVD version of their dark thriller The bone Bollector day and date with its VHS release.
Starring Denzel Washington and Angelina Jolie, "The Bone Collector" is an edgy and unsettling thriller about a killer who leaves behind mysterious pieces of a bizarre puzzle. The only person who may be able to make sense of the serial killer's deranged plan is Lincoln Rhyme, a one-time top homicide investigator. But after a tragic accident changes his life forever, Rhyme can only watch as other cops bungle the case… until he teams up with a young rookie.
The DVD version will feature a 16×9 enhanced widescreen transfer and a 5.1 channel Dolby Digital audio track in English, as well as a DTS audio track. Supplements on this release contain a commentary track by director Philip Noyce, a behind-the-scenes documentary, production notes and the movie's original theatrical trailer.