We have a large number of new title announcements for you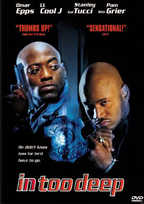 We have just received a large number of new title announcements, with many new titles from some of the major studios.
20th Century Fox Home Entertainment has officially released some details about The Abyss and Independence Day. We have also received very early information on Anna And The King that will make its run on DVD in June if things go well. Butch Cassidy and the Sundance Kid is also on the list for a May release, together with an X-Files box set that will contain the entire first season of this highly successful TV series. A large number of other Fox titles are also part of the list.
Buena Vista Home Entertainment is continuing to put out some Hong Kong action movies. After the Jackie Chan films, Jet Li's Fist Of Legend is coming in February, together with some smaller titles. A number of February titles will certainly be added to this release list from Buena Vista as we draw closer to February.
Columbia TriStar Home Video is throwing King Of Mask, Who's Harry Crumb? and Random Hearts in the ring for release in February. Most notable is that "Random Hearts" will feature a commentary track.
From Elite Entertainment comes the 1976 version of Jack The Ripper by Jess Franco, also to be released in February. Tai Seng has a number of new titles, including Saviour Of The Soul the furious story surrounding "Silverfox", starring Anita Mui and Andy Lau. Trimark Home Video sees to the release of more Saturday Night Live specials, this time featuring Dana Carvey and Chris Rock. apart from all these, there's still a lot more, so make sure to check out our Release Section for all the titles and the complete details.