The Astronaut's Wife is coming to DVD in February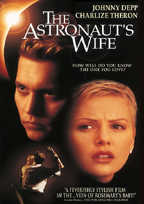 New Line Home Video just announced the day and date release of their spine-chilling thriller The Astronaut's Wife on February 8. Starring Johnny Depp, "The Astronaut's Wife" is the story of the courageous NASA astronaut Spencer Armacost and his wife Jillian, a schoolteacher. When Spencer's mission mysteriously loses contact with Earth for 2 minutes, their lives are momentarily shattered. Neither Spencer nor Jillian know that those 120 seconds of terror will ultimately threaten their sanity, their future and their lives.
"The Astronaut's Wife" will contain the movie's theatrical trailer and cast & crew biographies. The disc will also contain DVD-ROM features that allow access to the screenplay in New Line's "Script-to-screen" manner, as well as a special "Lord Of The Rings" web browser. The DVD will feature the movie's widescreen presentation in an anamorphic transfer, as well as a fullscreen transfer. And carry a suggested retail price of $24.98.