Take a look at the menus of Universal's Dracula with us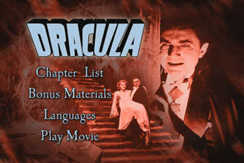 We have been able to take a first look at the upcoming release of Universal Home Video's DVD version of the classic Dracula. As we had hoped, the disc is a gem for all "Dracula" fans, containing a number of truly exciting special features. The disc contains the 1930 version of the film starring Béla Lugosi, with its original soundtrack, and with the newly created score by Philip Glass on a separate audio track.
Fans of the film will know however that there is also another version "Dracula" sitting in Universal's vaults. The Spanish version of "Dracula" was shot at the same time as Tod Browning's film, even using the same set pieces and props. At a time when film dubbing was non-existent, entire films had to be literally re-shot with native actors. Starring Carlos Villarias and Lupita Tovar the Spanish "Dracula" has been shot using exactly the same shooting script as Tod Browning's version and had been lost for over 60 years until Universal restored it.
For the special occasion of this DVD, Universal has also added this version of the film – which is reportedly much more visual, elaborate and atmospheric than Browning's unappreciative attempt – on the same disc! This will give fans the chance to directly compare the two versions and to see how different directors and cinematographers can interpret the exact same material at exactly the same time. As a matter of fact, while the Browning's crew used the sets during the daytime, Paul Kohner and his crew used the same set at night to shoot the Spanish film simultaneously.
Here now, we are able to present you the first look at the menu screens from this exciting release from Universal Home Video that will be released on December 21!