Take a look at the menus for Universal's Mystery Men with us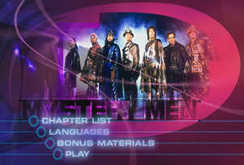 On January 11, Universal Home Video will release a band of new superheroes on the world. Mystery Men is making its debut on DVD in a release that is filled with extras.
"Mystery Men" is a hilarious comedy about a group unlikely superheroes who nonetheless take it upon themselves to rid the world of evil, namely Casanova Frankenstein. Filled with gags and twisted characters, this DVD is a fun filled ride into the world of comic superheroes.
Today, we are able to bring you screenshots from the disc's menus, and as you can tell from those screens, the disc will contain quite a number of extras that had not been announced before. Please click here or on the image to the left for a full look at these menu screens.