Take a look at Columbia's Run Lola Run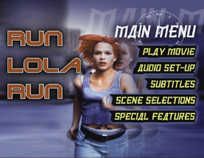 On Tuesday, Columbia TriStar Home Video will release Run Lola Run, a dazzling action thriller from German director Tom Tykwer. A thrilling post-MTV roller-coaster ride, "Run Lola Run" is the international sensation about two star-crossed lovers who have only minutes to change the course of their lives. Time is running out for Lola. She's just received a frantic phone call from her boyfriend Manni, who's lost a small fortune belonging to his mobster boss. If Lola doesn't replace the money in twenty minutes, Manni will surely suffer sever consequences.
To make the wait for this thriller a little shorter for you, we have prepared some of the disc's menu screens for your viewing pleasure. Please click here or on the image to the left for a look at the selection.