Columbia TriStar lets consumers vote for the cover artwork of American Movie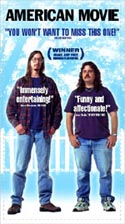 Columbia TriStar Home Video is currently preparing the release of American Movie, the story of filmmaker Mark Borchardt, his mission and his dream, for release on VHS and DVD. Spanning over two years of intense struggle, this is a portrayal of ambition, obsession, excess, and one man's quest for "the American dream". The film started out as a completely independent film project and was recently picked up by Columbia TriStar for distribution.
In keeping with the theme of the film, Columbia TriStar Home Video has now unveiled a promotion in which YOU can now be a part of the movie making process.
Starting immediately and running through December 24, 1999, consumers can log on to the movie's official website and vote for their favorite packaging artwork out of three posted options. Among these options are the theatrical artwork and two brand new options.
The packaging design that has received the most votes on December 23 will become the official packaging for the VHS and DVD release of "American Movie", for its release in the summer of 2000. This is the second time we see a procedure like this after 20th Centruy Fox Home Entertainment allowed users to vote for the packaging of the "Aliens Legacy Box Set" some time ago. So, make sure to cast your vote and let the world know which cover artwork you prefer!